SANITMAX
Regular price
$1,899.00 USD
Regular price
$1,999.00 USD
Sale price
$1,899.00 USD
Unit price
per
Sale
Sold out
Free Freight Shipping! Process in 2 business days.

Deliver to 48 States in 1-2 weeks after shipment.

2-year manufacturer warranty!

SM1050B 41.3" Walk-behind Battery Powered Sweeper is Best for cleaning Vinyl, Wood, Concrete, Tile, Stone, Ceramic, Rubber, Asphalt, Pavers, Bricks, Permeable pavement, Gravel Paths, and other Hard-surface floors of indoor and outdoor areas. It features:

Easy to push due to the powerful electric motor, travel up to 2.5 MPH, climbs inclines up to 20%;




550 w cleaning power, 3200 rpm motor speed;

41.3" wide cleaning path, 9.25-gallon easy empty dustbin, 3.96-gallon water tank;

Working efficiency up to 64500 sqft/h, 4 hours continuous working time, up to 5.9 acres for one charge;

Triple Nylon+ Polypropylene brushes with two front brushes and 1 roller brush, durable and resistant to stress;

Equipped with 2 water sprinklers for dust suppression, over 20 minutes of continuous water spray time;

Large filter area of 21.5 square feet;

Free shipping! Process and ship in 1-2 business days;

4-year warranty for brushes, 2-year warranty for other parts.
Exclusive One-Button-Control Water Spray System for Dust Suppression
Like a street sweeper, SANITMAX SM1050B Floor Sweeper equips with 2* 6501 Flat Fan Nozzles to help control dust with the fine water mist; it is useful in dusty conditions to suppress the dust, keep the air quality and the operator's safety.

It's very easy to operate, add water to the tank, start the machine, press the "Watering" switch on the control panel to activate the water spray, and press the switch again to turn it off.
Consists of:

2* 6501 Flat Fan Nozzles

3.96 Gal Water Tank

20 Minutes of Continuous Water Spray Time
NOTE: Do not use the water spray system on wet surfaces.

----Q: Why there's mud when using the water spray system?
----A: The mud may be created due to heavy dust or wet surfaces. We suggest waiting until the surface is dry, then do the sweeping to get the perfect results. And make a regular maintenance plan to keep the dust from building up.



Share
View full details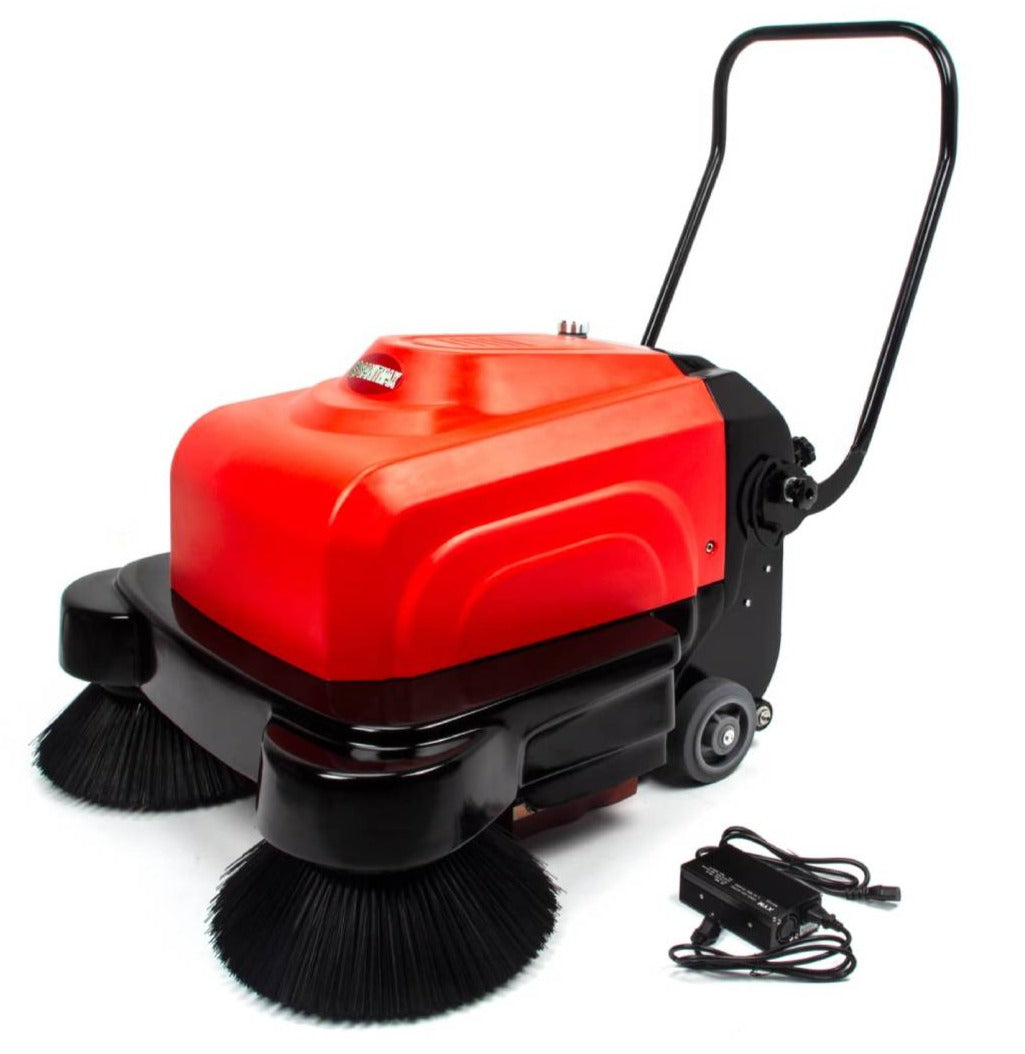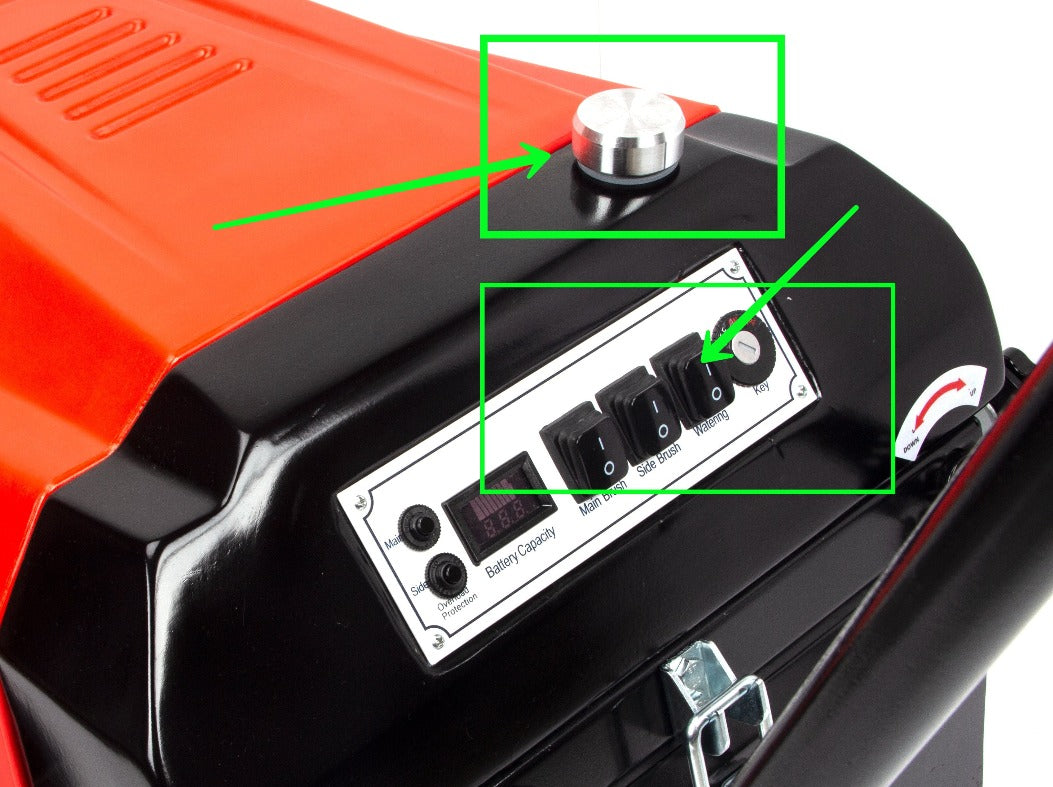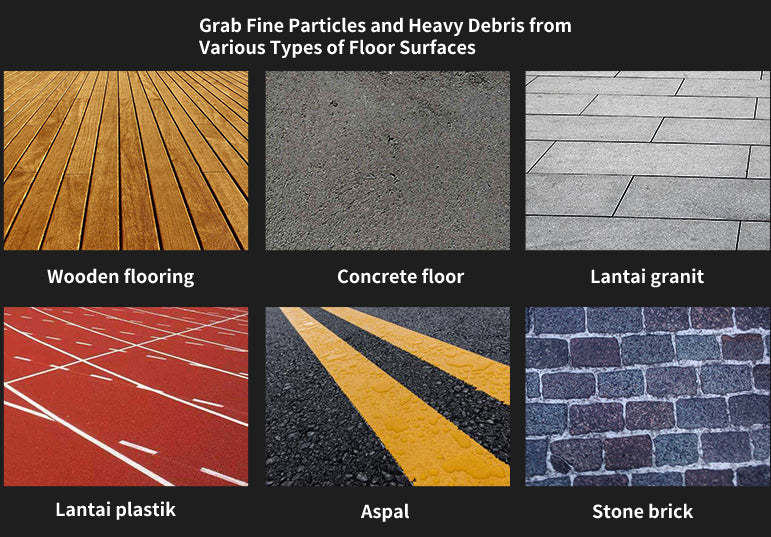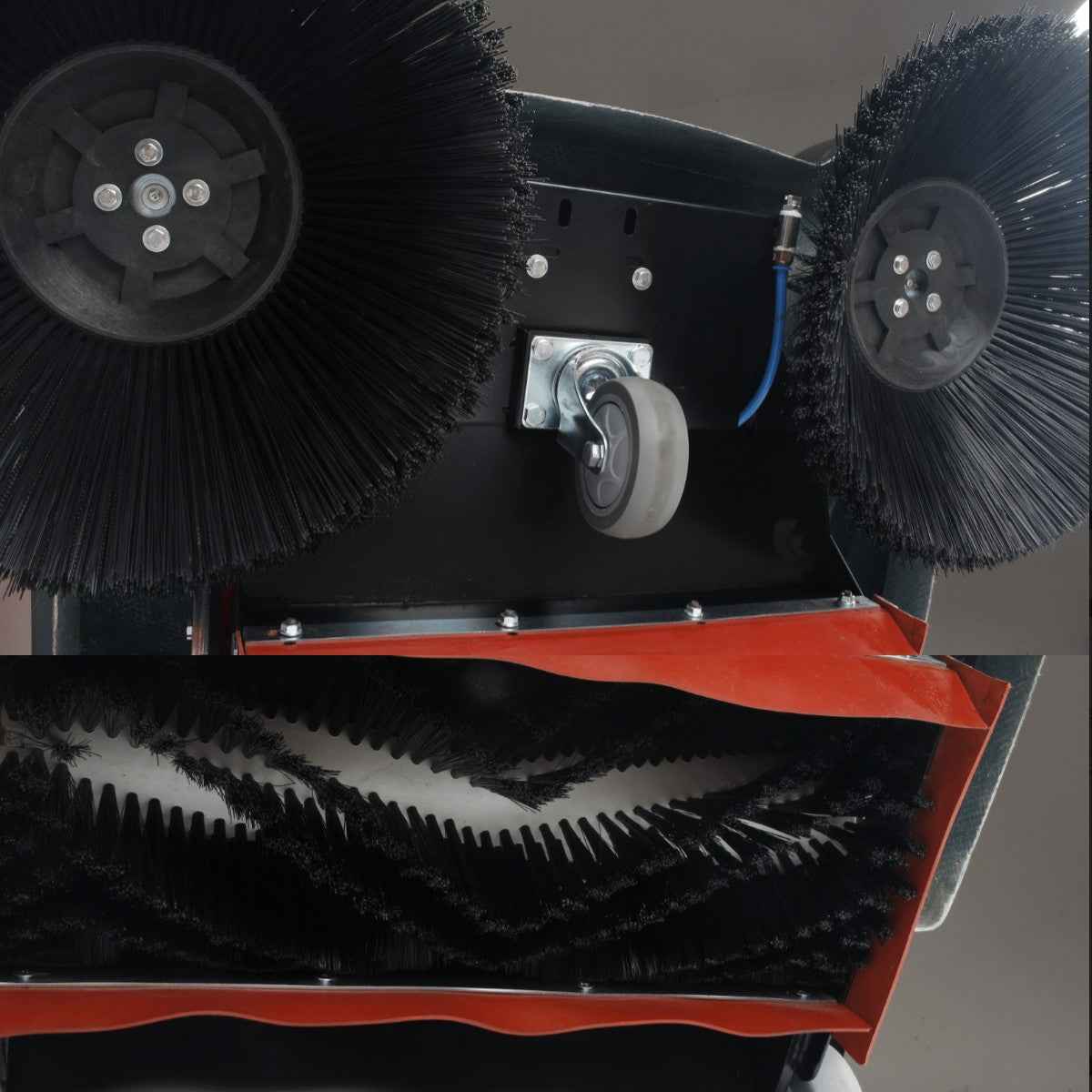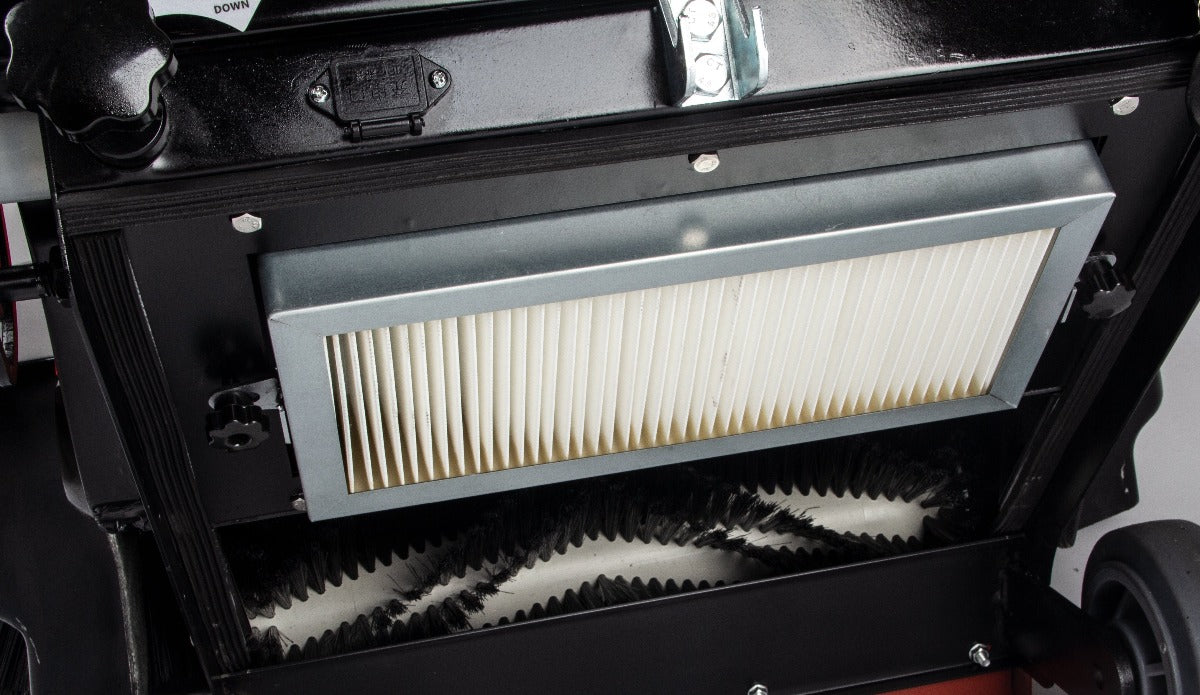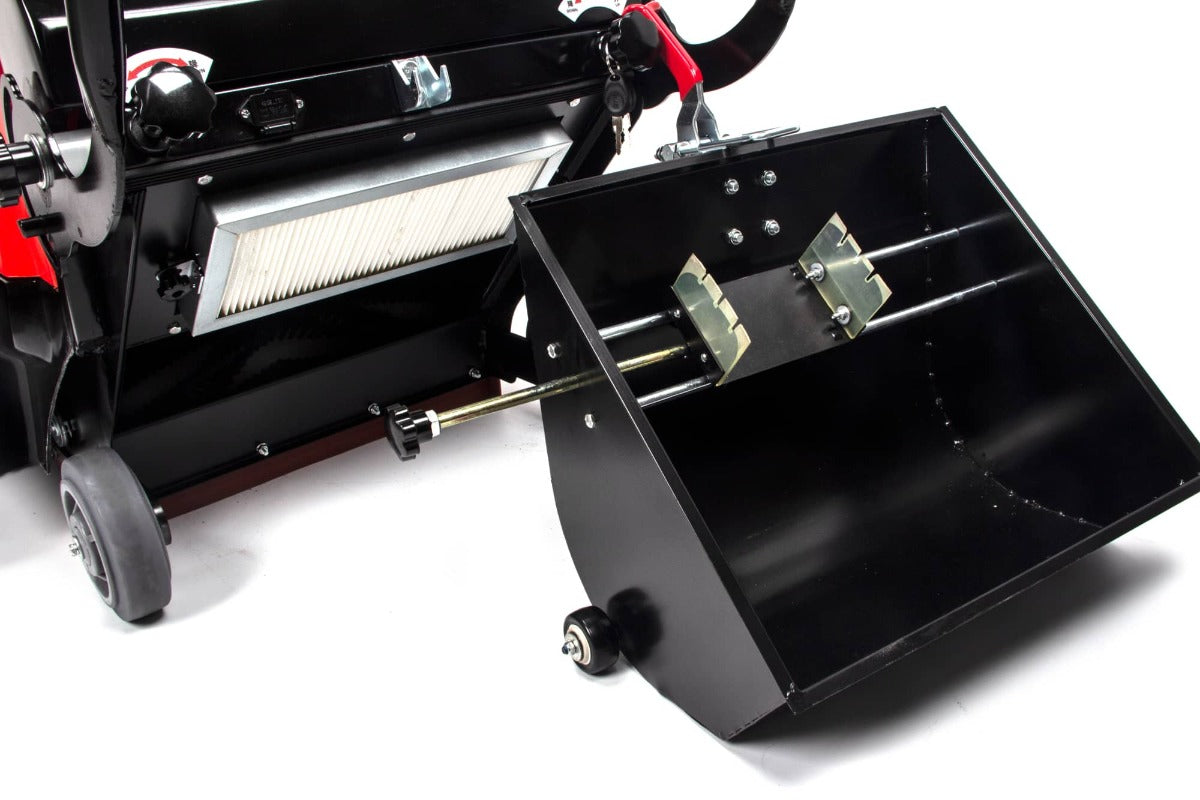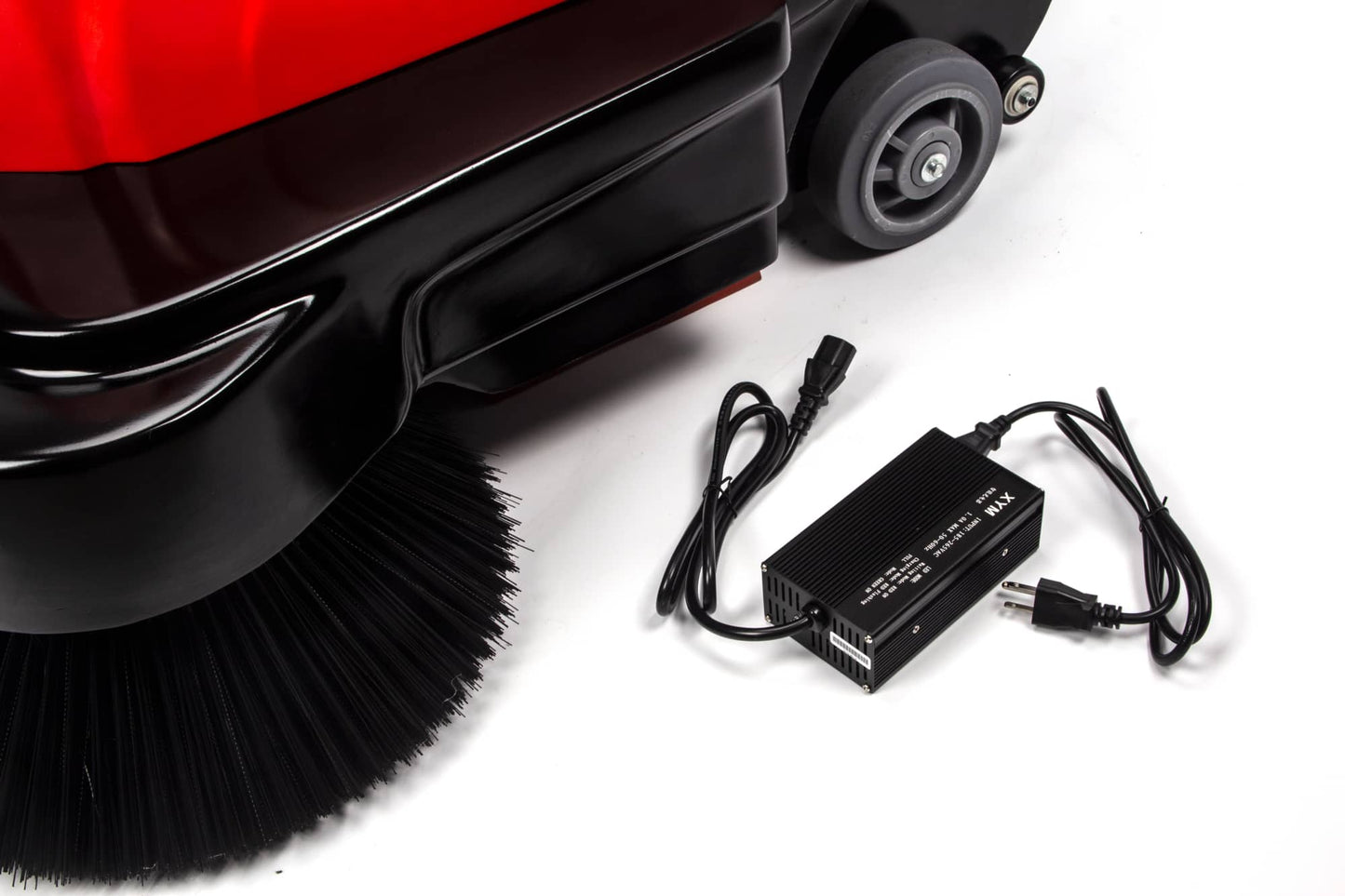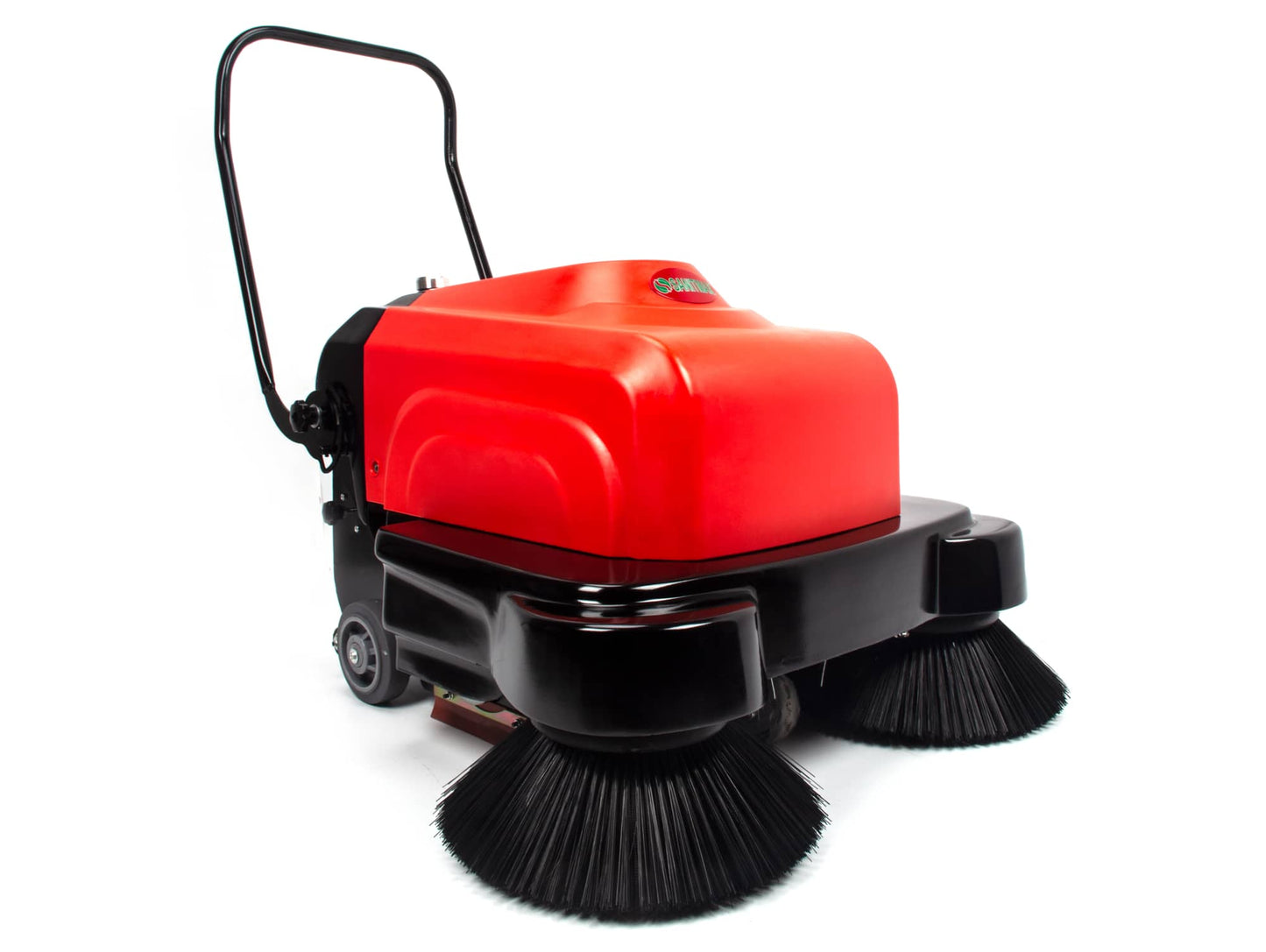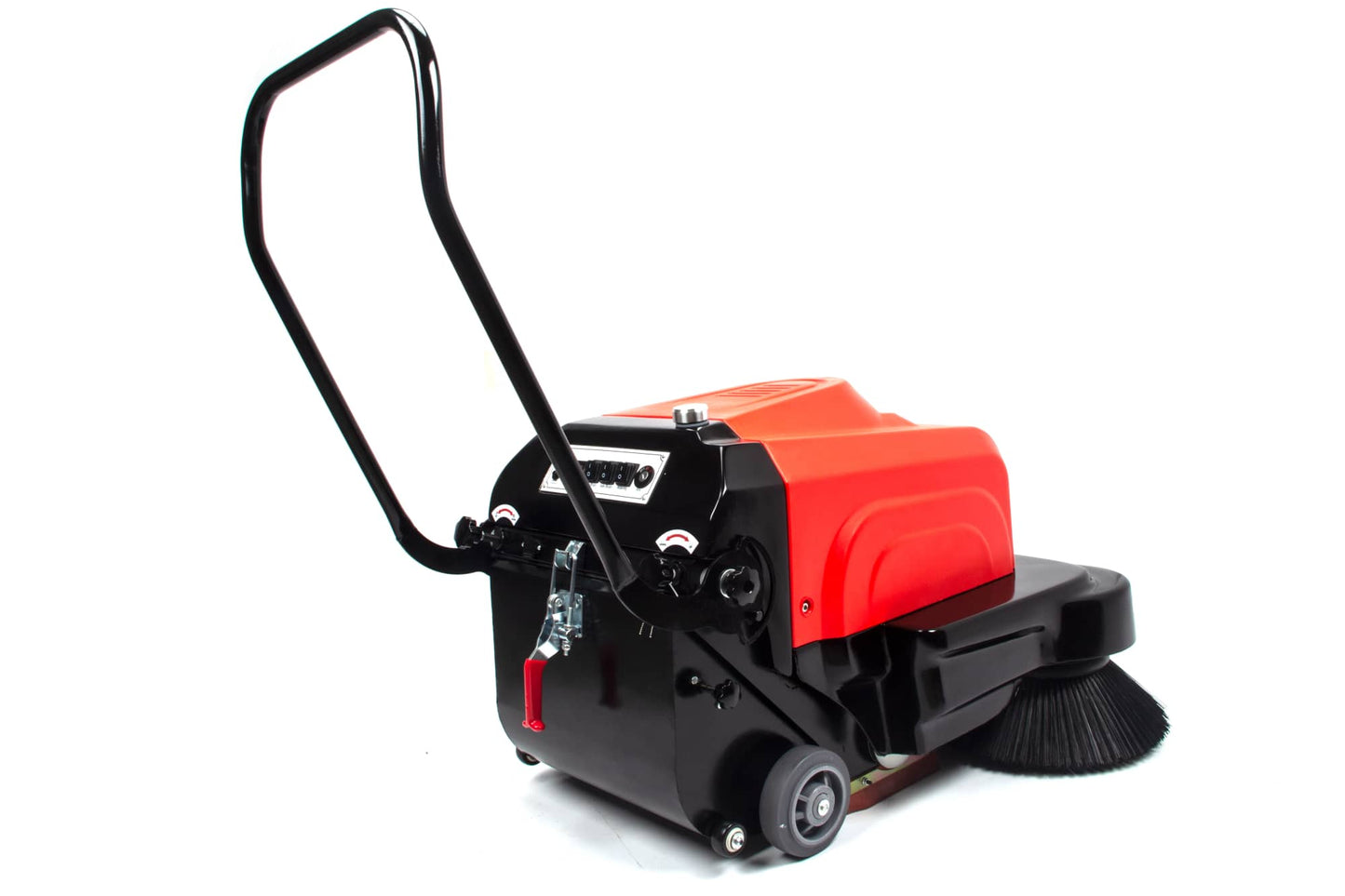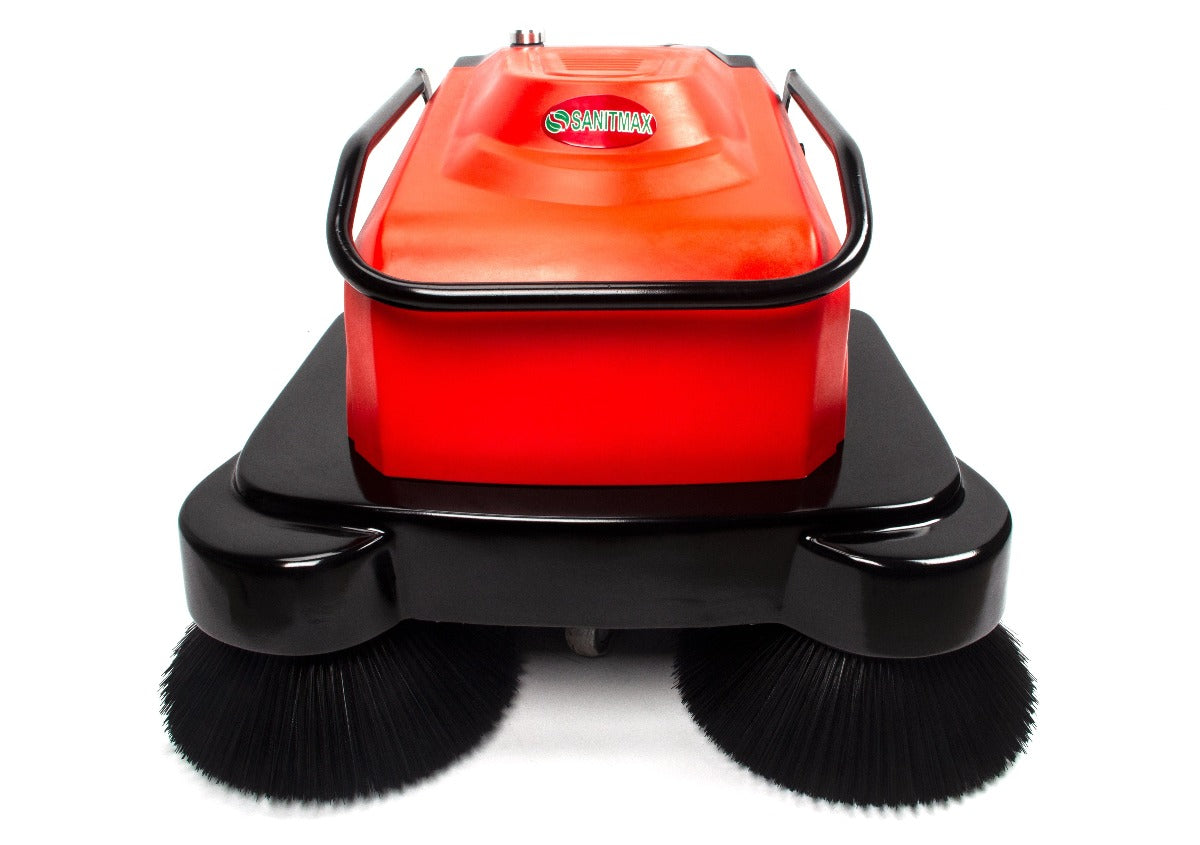 SPECIFICATIONS
Application: Indoor and Outdoor

Coverage/Productivity: Up to 64500 sqft /h

Estimated Run Time: 4 Hours

Power Source: Rechargeable Battery

Cleaning Width: 41.3 Inch

Dimension(L x W x H): 42.5/41.3/42.5 in

Dustbin capacity: 9.24 Gallon

Main/Side brush length: 17.5/16.5 in

Filter area: 21.5 square feet (2m²)

Battery: 12V/73Ah Rechargeable

Climbing ability: 20%

Vacuum motor rotate speed: 3200 rpm
Water Tank Capacity: 3.96 gallon

Working power: 550 w Max

Working speed: 2.5mph

Main motor rotation speed: 2800 r/min
Quick, environmentally responsible, and technologically advanced solution to the most difficult cleaning challenges
High Efficiency Cleaning Equipment

Clean thoroughly from general to most difficult challenges. High cleaning capability for various surfaces and debris. Reduce work fatigue and increase productivity.
Extended Warranty Coverage

2-year Warranty for the cleaning machines, 4-year Warranty for the brushes of sweepers. Free ship the non-wearable parts to you in warranty time. A complete set of parts in stock to help solve the product issues in a timly manner.
Reliable After-Sale Support

Complete tech support services ensure you and your cleaning machines work efficiently and securely. Just call or email us to get problems solved in 24 hours.
Free Shipping and Fast Processing

Fast and Free shipping to 50 States!

Process in 2-3 business days (Except Pre-order products).

Economy Delivery takes 1-2 weeks. Expedite Delivery takes 1-3 business days.
I love this little machine
Love this! Makes it super easy to clean up the warehouse floors.
Very easy to use
1050B requires a person to push in order to move forward, but it is easy to push, the brush has a motor to help, and even small children can push. It can suck up Pepsi cans, it's amazing!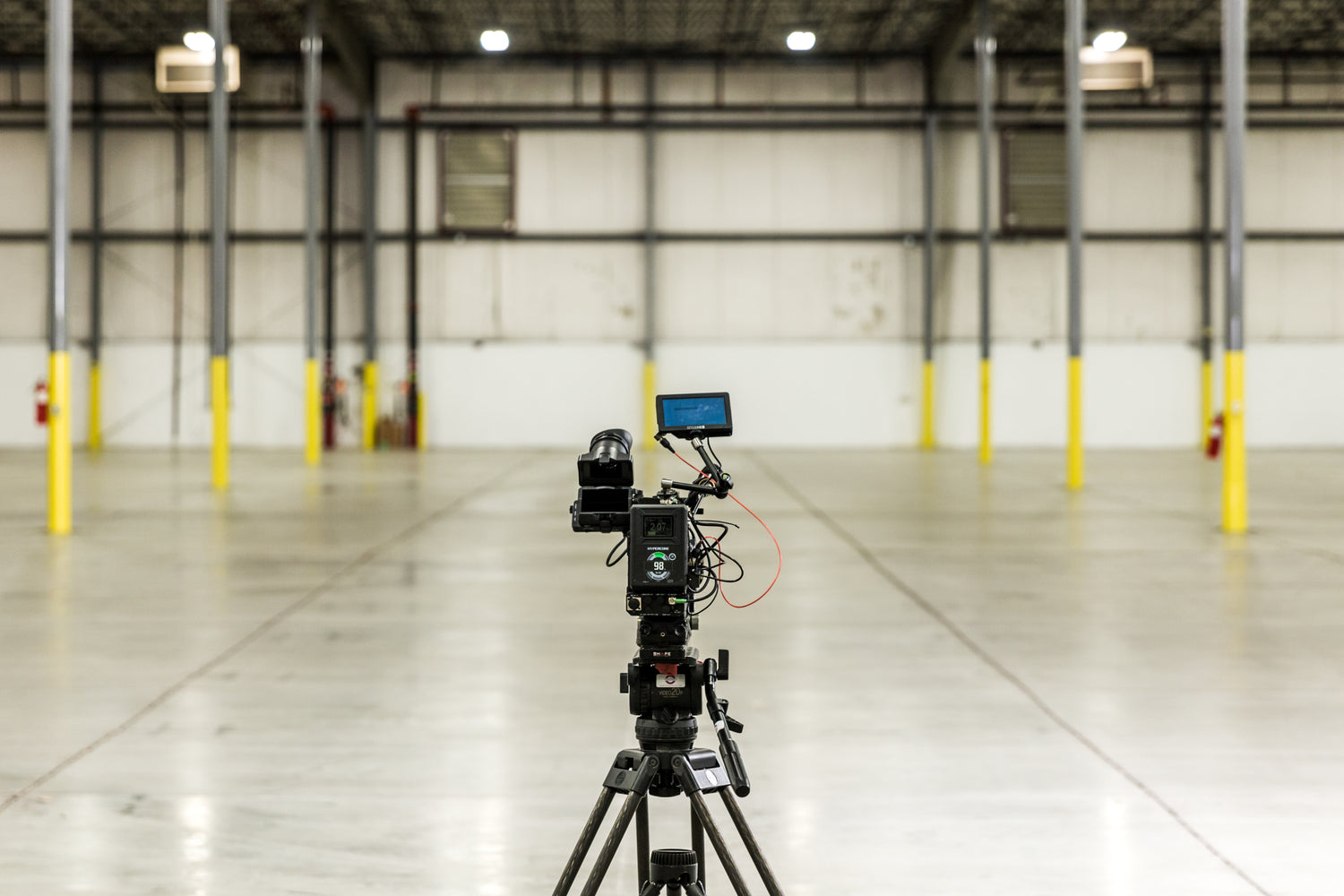 Multiple Industries
Whether you operate a business in retail, fitness, hospitality, or industrial facilities, such as factories and manufacturing facilities, self-storage buildings, warehouses, and power plants, you need to make sure your space and machines are clean and fresh, all the time.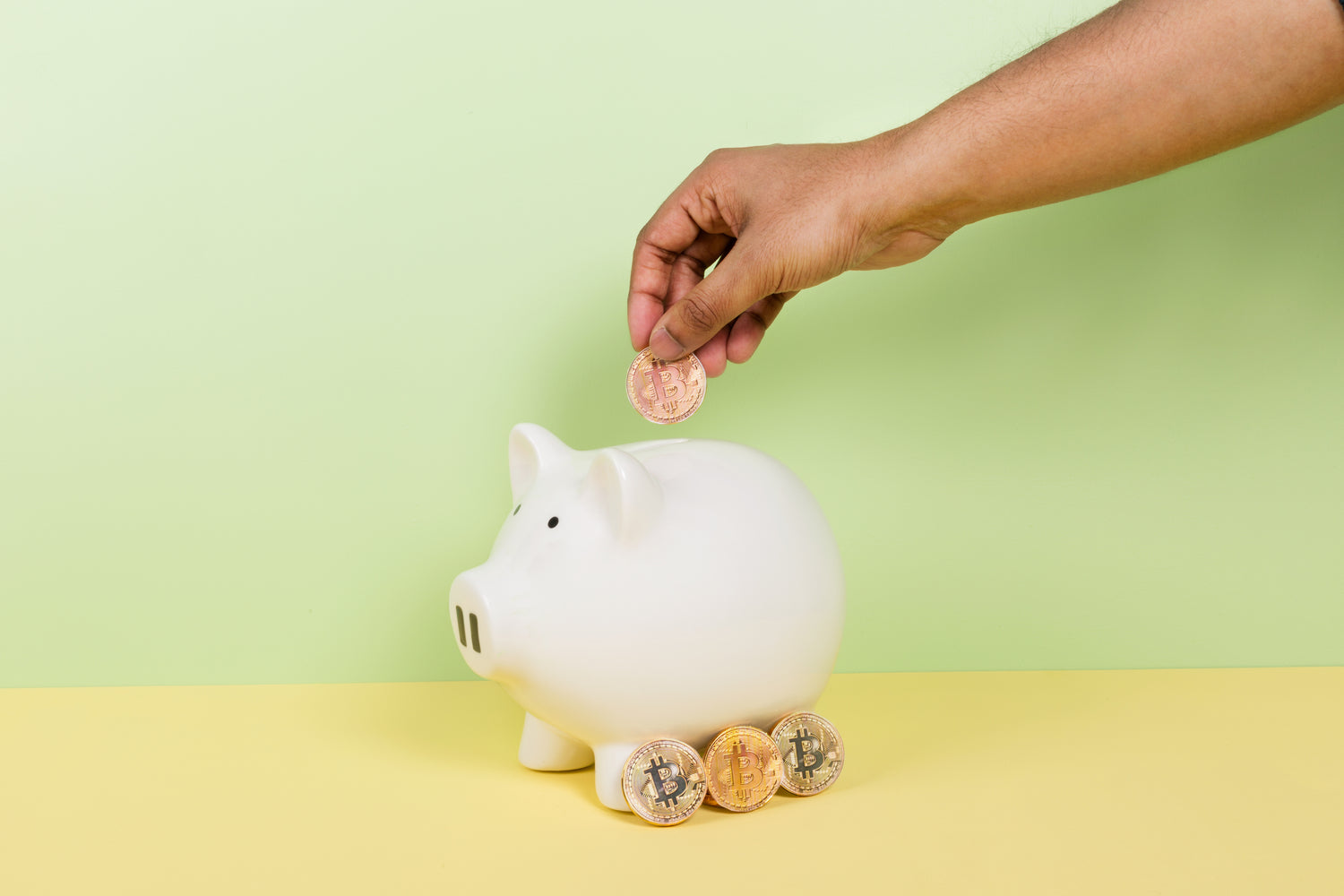 Worth the Invest
Meet your business' disinfection needs.
Complete the daily cleaning routine on your schedule.
Durable materials with low maintenance cost.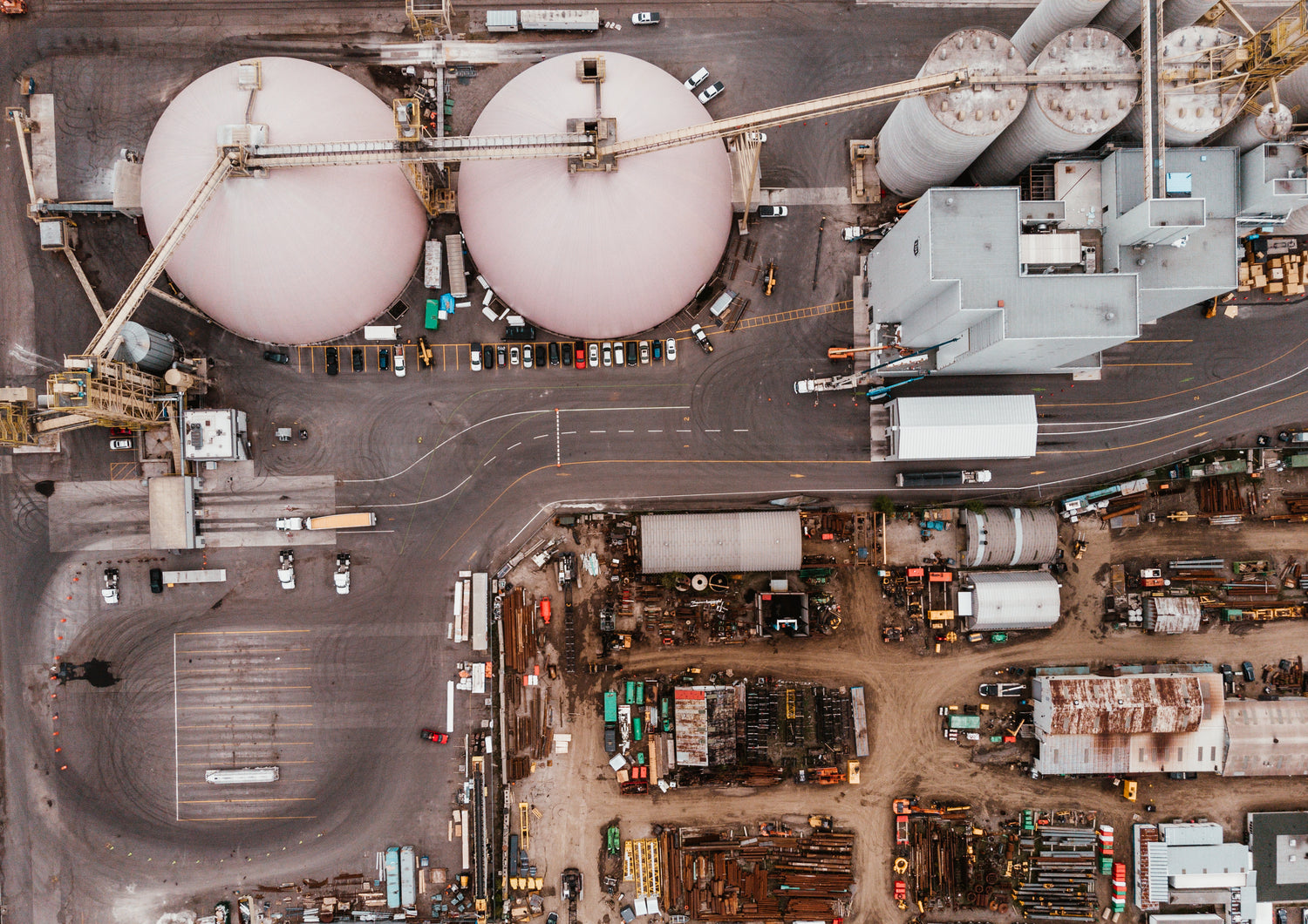 Clean space, Clean products
Highly promote your daily production, and help create a positive and safe environment.